oh, hello friend is having a blog anniversary giveaway.  not one or two items but many beautiful items....all for a lucky winner!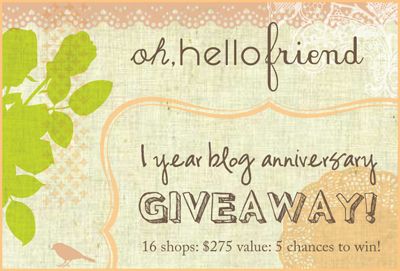 It's Friday.  Am sleep-walking through my day thanks to a 1/4 dose of a sleep aid... which I took because of getting home late last night after helping a friend video an 8th grade graduation - after a dinner at which I drank coke in preparation for the graduation event (so I could stay awake).  Could you follow that?  End result is not worth it... am in a daze.   Perhaps this will give my friends the edge tonight when we play cards and they win big-time.
The weekend ahead holds a trip to IKEA, a barbecue, another video gig at another graduation, and maybe some laundry and clothes sorting before a trip to the thrift store to donate bags of items.  
Have a great weekend!!